Rex Halliwell

Species

Human

Birthday

July 11

Age

13

Gender

Male

Eyes

Brown

Hair

Black

Occupation

Middle School Student, Rooster Guardian

Known Abilities

Levitaion

Marital Status

Single

Family Members

Patricia Halliwell and Jose Luis Montenegro(parents); Holly, Sandra, and Rika Halliwell(sisters); Jasmine, Alan, and Phoebe Giordano, Adam, Evelyn, and Patty Martinez(nephews and nieces); David Giordano and Juan Martinez(brother-in-laws)
Rex Halliwell
is a mortal who has Wiccan, Guardian, and Phoenix powers. He is the youngest and only son of Patricia Halliwell and Jose Luis Montenegro and youngest brother to Holly, Sandra, and Rika Halliwell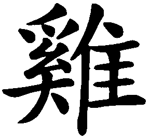 . He is the currecnt Rooster Guardian. He is one of the main protagonists of the
Guardians
series.
Appearance
Edit
Rex appears to be a normal teenager, the only exceptions are his height, his hair, and his glasses. He is fairly tall, seemingly built person with brown skin, brown eyes, and black bushy hair. Since he became a Guardian he has become more honest and self assertive, at time making him appear as the leader. When in his Guardian form, he is slightly taller, his hair straighten a bit, has a lighter complextion, and loses his glasses, he wears a light blue shirt, a long blue vest, dark blue pants, and purple shoes.. Since his Guardian weapon is a necklace, The Eye of Trinity, he does not wear a sash.
Personality
Edit
Rex was born on July 11th to Particia Halliwell and Jose Luis Montenegro 13 years before the became a Guardian. He is the youngest and only male child in the family. His sisters Holly, Sandra, and Rika Halliwell were born several years before him. Along with his sisters and cousins, Rex became a Guardian a week after Drake's 15th birthday.
Guardians
Edit
Powers, Abilities, and Paraphernalia
Edit
Mimicry - the rare and extremely powerful ability to copy any power, ability, and magic and use it as your own temporarily or permanently.
Levitation - the power to magically propel yourself into the air without the use of tools or assistance from another person or being.
Projective Levitation - the ability to levitate other people and objects.
Flight - similar to levitation, though more powerful, beings able to actually create one's own momentum to move through the air and control the direction one goes in.
Vast Aura
Expert Hand-to-Hand Combatant
Advanced Growth Rate
Keen Intellect

Amulet of Trinity

Aura Mirror
Guardian Magic
Channeling
Affiliation
Edit
Conception
Edit
The design for Rex's Hawk Eye Necklace is based on the Millenium symbol from the Yu-Gi-Oh series while the design on the center jewel was based on the Sharingan from the Naruto series. His power of levitation was based on the Rooster talisman from the Jackie Chan Adventures series. The style for Rex's inactive guantlet and armor form is based on the Witchblade series.
| | | |
| --- | --- | --- |
| Preceded by: | Rooster Guardian: | Succeeded by: |
| Julian | Rex Halliwell | none |